MRI shielding Doors
Application: MRI shielding doors is specially designed for MRI Shielding Rooms, it can be used for different MRI equipments such as Siemens, Philips and GE etc.
Size: 1200mm Wide x 2100mm High, open outsides.
Door panels options: wooden sheets, aluminum sheet, stainless steel sheets
Normal white: gray or white
Shiedling effectiveness: 10~130MHz>100db
Manufacturing skills:
Door leaf and door frame made in 304 stainless steel, matt finish; nice looking and good electrical connecting

Door size 1200x2100mm, easy maintainance and adding liquid helium

Around the door leaf installed with imported beryllium bronze tape which can ensure the airtightness for electricy.

Superconduction type shielding doors are designed to open outsides so that people can eacape quickly in emergency of leakage of liquid helium.

Equipped with annular stainless steel handle and locks.
Photos for MRI Shielding Doors made in Stainless steel with bronze tape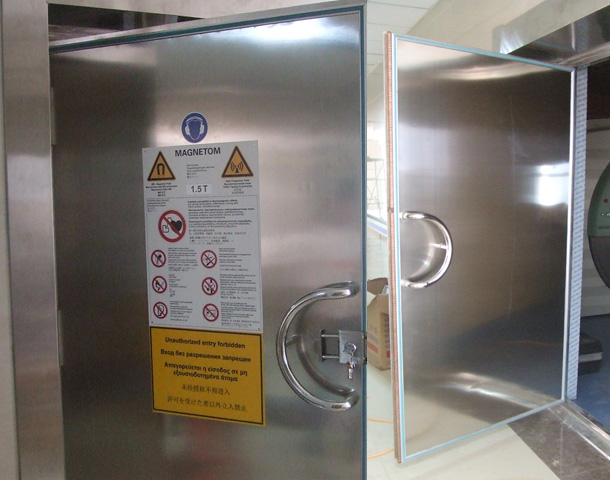 Pictures for MRI shielding Doors